THURSDAY FUN RUNS PROVE MORE SUCCESSFUL
In an attempt to increase participation in the Fun Runs, the AARC Board decided to try something different. Fun Runs were moved from Monday evening to Thursday evening, and we sent out e-mails letting everyone know of the new time, that we would provide "lead" runners, and that we would have slower and shorter runs as well as more brutal runs for those who prefer that. (Some runners went 3-4 miles, others went 6. Paces ranged from about 7.5 minute miles to 10+ minute miles.)
The result was dramatic. We had a much larger turnout than we've had in a long time, and participants expressed that they liked the new time and variety of offerings. Pictured here are some of the runners who...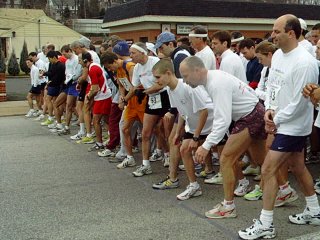 ... well, okay, these aren't really the people who came to the Fun Run. You can tell from the way they're dressed that this is the starting line for this year's Frostbite 5-Mile run. The runners who really showed up last week are pictured here:
You can click on the picture for a larger view, including names of the runners who showed up for a little stretching at 6:45 p.m., followed by pleasant social running at 7:00 p.m., and refreshing beverages around 8:00 when everyone finished. Shown below, stretching after their run, are last Thursday's "Fun Runners."
This week's Fun Run is at the same time, starting at Born To Run at 6:45 p.m. for stretching. If there's sufficient interest, we'll move over to Wissahickon H.S. and start there instead.