Saturday, December 31
Last Saturday Starbucks Fun Run of 2005 sends the year out with a record crowd.
Runners old and new show up for 4, 5, 6, 7 miles and more.
SRO in Starbucks threatens future coffee perks.



L-R: Kathryn, Linda, Denise, Hank, Rita, Marni, Nathan, Joanne, Lisa, Dick, Kara, Alan,
Dave, Kathy, Linda, Kathryn, Sandy, Denise, Ray, Patty
BTC: Lynne and her flu.


Thursday, December 29
Rain? What rain? We ran 7 miles.


L-R Front: Kim, Tom
Back: Paul, Alan
BTC: Nathan

Saturday, December 24
Christmas Eve Starbucks Fun Run draws runners
with "unseasonably mild temperatures" for a beautiful run
through Springhouse trails, followed by a stop at Starbucks...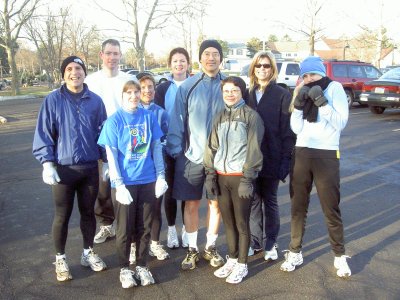 L-R: Alan, Marty, Linda, Patty, Megan, Dave, Sandy, Denise, and Jenna
BTC: Nathan
Still in Hungay: Sandor... Still in Canada: Karen
Recovering at home: Lynne
Thursday, December 22
Ever notice how runners often run longer than they expected to?
Mostly 5+, 6+ & 7+ mile runs, including a jaunt over to the Maple Glen
Elaborate Christmas Display -- including Penguins!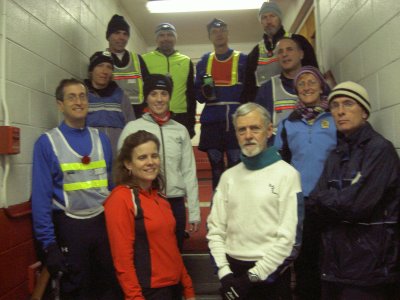 L-R (Front): Lynne, Tom, Ray
Middle: Ken, Kim, Ali
Top: Marni, John, Jack, Andy, Dick, Alan
BTC: Nathan
In Hungary: Sandor
On the way to Canada: Karen
Nursing Hamstring: Ed
Monday, December 19
Missing some Monday night stalwartrs, but nice weather and
a nice run nonetheless. See you next year, Sandor.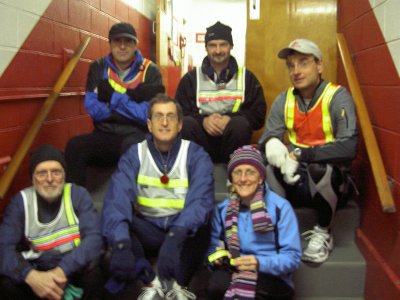 L-R Front: Ed, WelcomeBack Ken, Ali
Back: Joe, Sandor, Andy
Just in time to be late: Dick
BTC: Nathan

Saturday, December 17
Saturday Fun Runs rival weekday in popularity.
(Someone even risked missing a dentist appointment for the chance to run!)
Is it the coffee, the camaradrie or the cool sunny trails?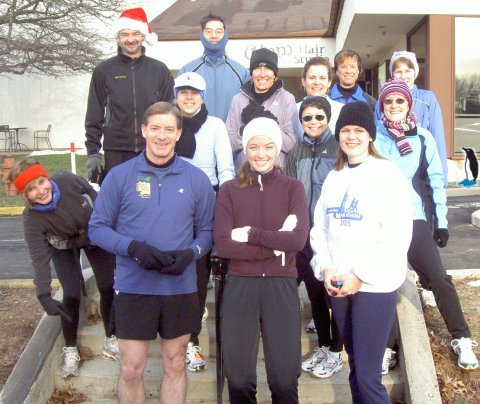 L-R (Front): Steve, Jackie, & Karen
Middle: Joanne, Jenna (Training for Houston marathon), Sandy, & Ali
Back: Sandor Claus, Dave, Marni, Lynne, Patty, Linda, & Penny
BTC: Nathan
Monday, December 12
No snow, no wind, clear streets, and a pleasant 5-6 mile run.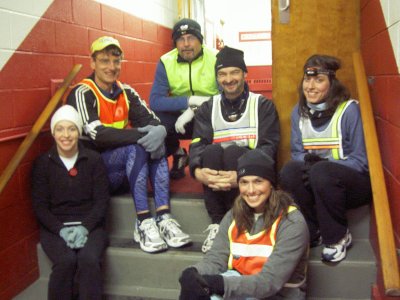 L-R: Carrie, Andy, Jack, Sandor, Micki, Michelle
Meeting us on the run: Lynne BTC: Nathan

Saturday, December 10
After a 6" snowfall, and with temps in the mid-20's, our First Starbucks Fun Run of the Season brings out a crowd. Grande Vanilla Peppermint Mocha, anyone?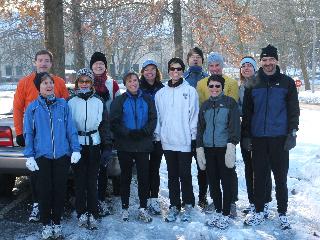 L to R: Steve, Linda, Joanne, Karen, Patty, Kathy, Denise, David, Jim, Sandy, Michelle, Sandor
BTC: Lynne
Click on a picture below for a Fun Run Testimonial