AARC at the 2011 Philly Marathon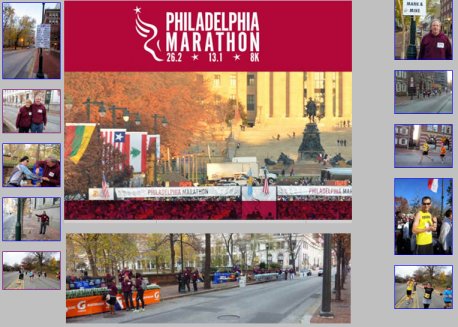 2010-2011 Winter Holiday Party
December 31, 2010
2nd Annual D&D Mondauk Marathon
November 14, 2010
Ailsa and Jesse at the Harrisburgh Marathon with FABULOUS times.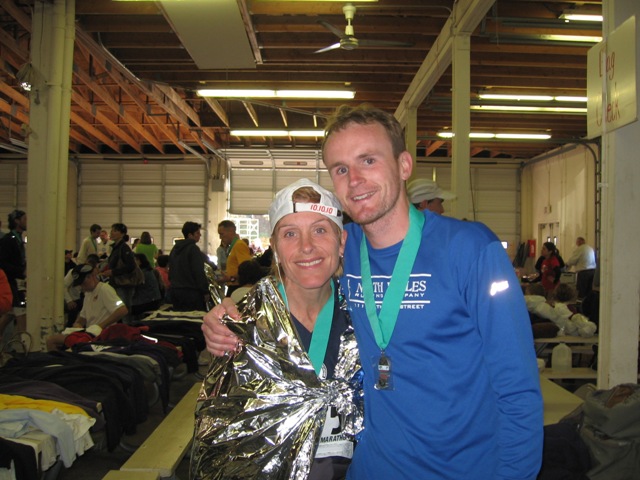 Ailsa 3:19:07 AG 1st
Jesse 3:07:34 AG 8th


September 19, 2010
Fall Picnic at Mondauk Park. Photos


May 29, 2010
Pictures from the Traveling Fun Run at beautiful Peace Valley Park! Photos


April 25, 2010
As usual, several AARC members competed at the Lehigh Valley Half Marathon. A few were even captured on film. Photos

The club also had a showing at the Big Sur Marathon in CA. Congratulations on some BLAZING times Brett (3:11:10), Derek (3:09:31 - 1 week after 2:53 at Boston), and Jesse (3:25:14)!
April 19, 2010
Congratulations Boston Marathon runners!
Lakshmi Bhamidipati 3:50:06
Linda Boyer 4:06:40
John Heely 3:26:27
Anthony Jordan 3:22:58
Victoria Oravec 3:35:18
Derek Reinhold 2:53:57
Kenneth Surowitz 3:30:59
Tom Yunker 3:17:49
Ailsa Drelick 3:59:06
Dana Wentzel 5:07:26
David Lorenzi 3:32:21
Ray MacWilliams 3:34:22
Lenore Davies 3:48:23
If we missed you, please email wm@aarclub.com, and don't forget to enter your story at www.aarclub.com/whoran

March 31, 2010
Spring General Meeting & Election of Officers - Photos
January 23, 2010
AARC Winter Party (with Fashion Show). Photos
December 15
OMYGOSH!! 40 Plus - Prediction Runners and 4 Newbies at North Wales Running Company!
Thanks to all who brought Toys for Tots, Canned Food for the Food cupboard and baked goods and salad to enhance the pizza.
Thanks to John from Brooks for the great aluminum waterbottles and Brooks shoes to our five award winners
Thanks to Scott and Laura for handling the Prediction timing and awards
Thanks to SEPTA for sending an R5 train to split up the pack 1 minute into the run
Good Luck to Lindsey who is moving to New Jersey! Happy Running!

November 11
Another successful Wine & Cheese gathering to salute our volunteers, sponsors, and beneficiaries of Frostbite and Phils
October 14, 2009
Fall general meeting. Club business was updated, committee volunteers were signed up, and trails were the feature presentation!
October 6, 2009
AARC Receives KADM's annual Fellowship Award. Details
October 4, 2009
The Wissahickon Valley Watershed Associationís 1st annual Green Ribbon PREDICTION Trail Run was a huge success due to AARC and North Wales Running Co. Check out the picture from the Springfield Sun Newspaper.
September
2009
Great Job at PDR! Photos coming soon.
July 17, 2009
AARC chosen by the Kelly Anne Dolan Memorial Fund to receive the Fund's Fellowship Award.
May 2009
Traveling Fun Run at Peace Valley Park. Check out the pictures.
BROAD STREET! AARC teams and individuals shine...
April-May 2009
Frostbite featured in Liberty Sports Magazine: On its "Faces in the Races" page, the informative magazine included two very nice pictures from our recent Frostbite Five Miler. Check out the magazine for lots of useful information and running/biking events in our area.
March 18
General Meeting gives runners a chance to socialize, meet new members, elect new officers, and hear the inspiring story of Back on My Feet
February 2009
Our Frostbite 5 Miler sent a record number of runners through the streets of Ambler! For results, pictures, and more, click here.
AARC provides Ambler with its Citizen of the Week
January 24
Holiday/Winter Party at Scoogi's. For pictures, click here.
December 13
December Traveling Fun Run: Jenkintown, sponsored by the Jenkintown Running Company. (416 Old York Rd Rte 611, Jenkintown) Courses/distances of 4-7 miles. picture
November 2008
Our annual Wine & Cheese get-together at the Ambler Theater, 6:30 PM -- to thank Volunteers and Sponsors of our Frostbite 5-Miler and our Phils 5K. A good time was had by all.
Traveling Fun Run #7: Delaware & Raritan Canal Tow Path, starting in Lambertville, NJ. Pictures
October 2008
AARC members catch-up on the latest news and Club activities at the AARC Fall General Meeting! 7:00 PM at the Upper Dublin Township Building on Loch Alsh Avenue.

After a short meeting, a special presentation by our guest speaker, Kate Taylor (formerly Fonshell), member of the US Olympic Team, 1996. Kate will share her experiences as a member of the Olympic Team and as a sports psychologist. Pictures
Traveling Fun Run #6: Wissahickon Trail, 8:30 AM. Northwestern Ave trail head (near Chestnut Hill College), Chestnut Hill.

A flat dirt road that follows the Wissahickson Creek. For those who have not run this trail, this is a scenic beauty!
See Pictures
September 2008
AARC at the 2008 ING Philadelphia Distance Run. Great Job Teams!! Don't miss the pic of our three running fairy princesses!
AARC Picnic is a huge success, as beautiful Fall weather greets overflow crowd of runners and their families. Pictures here. Thank you, Diann & Picnic Planning Commitee!
AARC sends another full Ambler Stampede team to New Hampshire.
Pictures here.
Traveling Fun Run #5
Valley Forge Park from Betzwood picnic area. Dan took us in a 5 mile trail tour across the river, along 422, up and down, across a train track (startled by a speeding freight train), and side to side in the very humid pre-Hurricane Hanna early run. We then toured the flat wide trail along the river with the 8:30 arrivals. Beautiful trails, a few rain sprinkles, good post-run food and coffee, and typical AARC fun and camaraderie. Photo.
August 2008
Traveling Fun Run #4
Peace Valley Park. We didn't get many pictures this time, but here are the runners who took the opportunity to mug at 8:30 AM. Several others were actively running the loop at the time.
July 2008
Traveling Fun Run #3!
Meet at the parking lot at Fort Washington State Park, W. Valley Green Rd., Flourtown (off Stenton Ave; opposite Phila. Cricket Club - Flourtown) at 8:00 AM. Beautiful new paved trail following the Wissahickon Creek! See who was there.

Map and park info at: http://www.dcnr.state.pa.us/stateparks/parks/fortwashington.aspx
Thursty Thursday / Pool Party - Were there pictures? Maybe what happens at Tom's pool stays at Tom's pool!.
June 2008
Second Traveling Fun Run. Central Perkiomen Trail, Plank Road, Schwenksville. Pictures
For map and trail information, see www.montcopa.org/parks/perkiome ntrail/perkiomen.htm
Tex Mex 5K. Pictures
Ambler YMCA Summer Solstice 5K. Pictures
Prediction Run at the Fun Run! Predict your time on a 5.4 mile run, or just come for the regular Fun Run. Awards to the top three runners finishing closest to their predicted times. (No watches or GPSes or personal pacers.)
May 2008
Our first Traveling Fun Run debuts at Peace Valley Park
Results and pictures from Broad Street 2008
November 2007
"Whine & Cheese" Reception at Ambler Theater
August 2007
AARC Presents checks to Beneficiaries of Frostbite 2007
Nov 2006
AARC honors sponsors and volunteers at our annual wine & cheese reception at the Ambler Theater
AARC Presents check to Golden Slipper Camp for Phils Tavern 5k Proceeds
AARC Presents check to Ambler Theater for Frostbite 2006 Proceeds
May, 2006
AARC Presents check to Ambler Main Street for Frostbite 2006 Proceeds
March, 2006
Reach the Beach in the News - Featuring the Ambler Stampede
"March Madness Stretch" for runners.
Run to Dean Karnazes, the "UltraMarathon Man"
February, 2006
Frostbite in the News (Enterprise)
Frostbite in the News (Ambler Gazette)
December, 2005
Holiday Party!
November, 2005
AARC "Collambleration" Highlighted in Special Feature Article
October, 2005
AARC Hosts Wine & Cheese Party at Ambler Theater to thank Sponsors & Volunteers
September, 2005
Thurd Thursty Thursdays continue to draw a crowd!
April, 2005
Plaque at Mondauk acknowledges AARC Contribution
January, 2005
November, 2004
AARC Inspires Future Runners
October, 2004
AARC represented at Oktoberfest